I wasn't sure at first whether I wanted this post to also include my highlights and some moments from my year that were not highlights (as I believe in balance), however, I think that is best in another post (plus, you know I'm inconsistent with posting so this way there will hopefully be more content). For as long as I can remember I've always made new year resolutions, whether I've stuck to them is another thing entirely. I have a habit of dreaming too big and letting myself because my goals were too impossible so I've vowed to make my resolutions this year a bit smaller.
Travel to Japan
I am determined this year that I'm not going to make grand travel plans again and then watch them fall through- I'm actually going to go to the places I planned! Money though as per usual is tight, and to be honest it feels like a lot of the time that I won't make this goal. However, travelling is one of my main passions in life, and one of the memories that I have which make me truly feel happy, and excited to talk about so I'm determined to make this vision a reality. Therefore, this year, Japan here I come.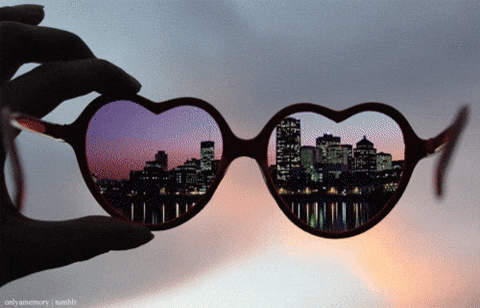 Source: Giphy (Tumblr credit on image) 
2. Finish all the films in the Studio Ghibli canon
This year is the year that Studio Ghibli has truly entered my life. I know for a lot of people I am VERY behind the curve, but well I'm just slow. At the moment my favourite Studio Ghibli film is Kiki's Delivery Service, so much so that you can read the little love letter I wrote to the film here. After that, Spirited Away is my favourite, followed by Howl's Moving Castle and then My Neighbour Totoro. The reason some fan favourites are not higher up in my list is simply that I have not watched them yet, so that is my plan for this year. Ideally, I'd like to watch them all before I visit Japan, and spend way too much money in the Studio Ghibli museum (it is the one place I'm going to allow myself to over indulge a bit while in Japan).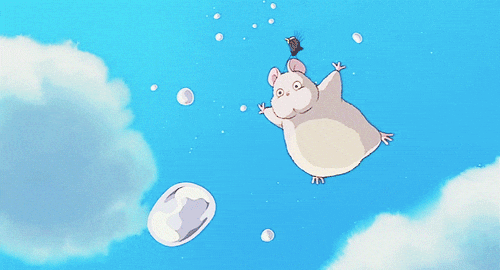 Source: Spirited Away/ Giphy 
3. Finish my novel
I think I've made some vague comments on here to signal that I'm writing a novel, and if I haven't well, I am, writing a novel that is. I'm trying to write 2,000 words a week, which was going well till Christmas, but luckily I'm not that far behind. At the moment not everything is necessarily in chronological order, but at the start I was just trying to make sure I actually got the 2,000 words a week written that it didn't matter to me as much. My resolution then is try to focus on tidying up what I have so far, and actually come up with a plan on what direction I want the novel to go in.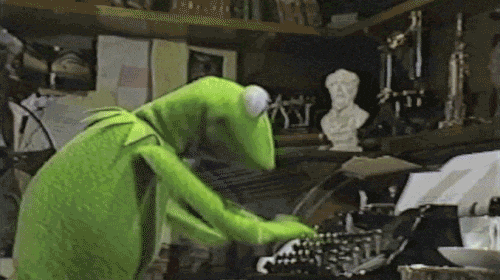 Source: Giphy 
4. Try to focus on what brings me joy
This may seem a bit of a general resolution, but I think one of the main issues I've had in the last couple of years with my happiness is that I've focused on everything spiralling in my life, and to be honest I'm sick of being negative. So I'm going to focus on the things I look forward to and am excited for like MCM London Comic Con in May, my trip to Japan, reading books and watching shows I love (because there is nothing wrong with getting excited about that).
I also think a part of this is focusing on my mental health, and trying to do more things to help it, rather than just ignoring it.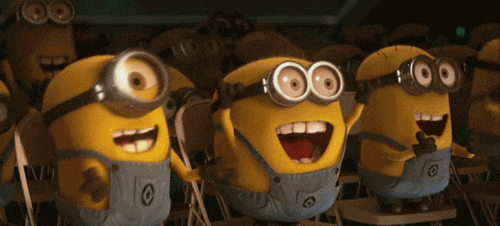 Source: Giphy
5. Organise this blog
I feel like every person with a blog has this on their list right now, and I for one definitely feel like this blog needs it. My goal is to have one post a week, it doesn't have to be a set theme (as that makes life difficult) or a set day (though I'm toying with it being a Friday). I might sometimes have more than one post a week, but at the moment I want at least one.
I also would like to try categorising my posts more and see if I can get some subheadings on my site to make it easier for people to search. I know my posts discuss a variety of different topics, and some people might only be interested in book reviews for example or fashion so I'd like to make it easier for people to find the section they like.
Content wise I'd also like to discuss some of my favourite vegetarian/ vegan places to eat, or things I like to eat. Especially, when travelling, as this is something I'm definitely aiming to talk about in regards to my trip to Japan (because as a vegetarian traveller its definitely something I've thought about and read and watched a lot of videos about).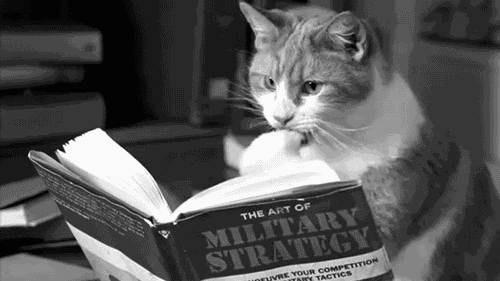 Source: Giphy
6. Complete my chapter for a secret project
I'm hoping that because January is the month that most of us have a spike of productivity that this is enough to fuel me to finish an essay for a project I was kindly accepted to be a part of. I won't say anymore in case my essay doesn't make the cut, but essentially I need to stop stalling and get writing (which, essentially is the story of my life).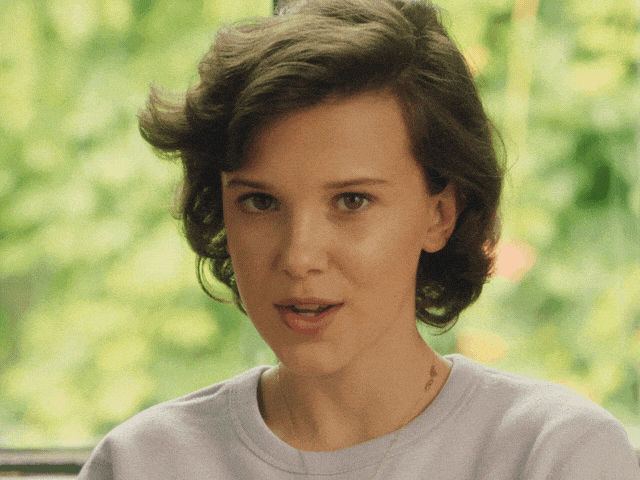 Source: Giphy
7. Dye my hair a new colour 
I'm currently planning to dye my hair today (and hopefully it should be done by the time this post is out), but after a few months of not knowing what colour I wanted my hair to be I have come to the conclusion that I think I would like it pink again at some point, and if I ever decide to cut it silver.
Spoiler alert: I dyed my hair. 
These I will be honest aren't all my resolutions but they are the ones I'm sharing because they are the ones I most want to have a reminder for (note how I said not held accounted to- please don't do that unless explicitly asked to by people). Let me know if you have any similar New Years revelations below because although we all know that you can make the change whenever you want to, sometimes we need a boost and there's nothing wrong with using the concept of New Years to do that.